US consumer confidence falls to seven-month low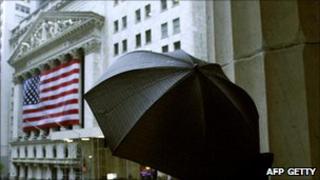 US consumer confidence fell in June to the lowest point since November 2010 on concerns about unemployment and stagnating wages.
The closely-watched Conference Board's Consumer Index fell to 58.5 from a revised 61.7 in May.
A reading of 90 or above indicates a healthy economy on the index, which measures consumers' attitudes to jobs and spending in the short term.
Consumer spending accounts for 70% of US economic activity.
"Given the combination of uneasiness about the economic outlook and future earnings, consumers are likely to continue weighing their spending decisions quite carefully," said Lynn Franco, director of The Conference Board Consumer Research Center.
In February the index reached a three-year high of 72, but it has fallen back amid concern that the US recovery has run out of steam.
The jobs and property markets remain weak, and consumers were hit with rising energy prices.
Official figures released on Monday reported that consumer spending was unchanged in May compared with April, marking the first time in a year that spending has not increased from the previous month.