Betfair reports big profit rise but revenues disappoint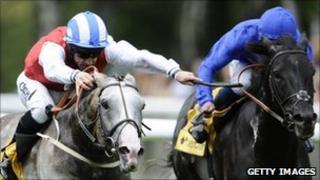 Online betting exchange Betfair has reported a big rise in annual profits, but admitted that its revenue growth "could have been higher".
Its pre-tax profit for the 12 months to 30 April totalled £26.6m, up 50% from £17.8m a year earlier. Its revenues rose 8% to £368.6m.
The results come two days after Betfair's chief executive David Yu announced he would be standing down.
Betfair has seen a big fall in its share price since last year.
When the company first listed on the London Stock Exchange last October, its shares were valued at £13.
Since then the price of its stock has almost halved, as analysts have questioned whether Betfair has been doing enough to expand the business. It shares ended Tuesday trading at 771.50p.
On Wednesday afternoon its shares were up 0.2% after Betfair also announced that it would now return money to shareholders by buying £50m worth of its stock.
Betfair's betting exchange model allows its customers to bet against each other, bypassing the need for a bookmaker.
'Significant change'
The company said that the number of bets made during the year rose by 20%.
It added that it saw a big rise in gambling on football matches, which increased by 24%.
However, bets on horseracing declined, and the company said its website had been hit by a number of technical faults during the year.
Betfair said it was working to improve its website and make it quicker to use.
Mr Yu said: "The past 12 months have seen significant change at Betfair as the business continued to grow and made the transition to being a public company.
"A huge amount has been achieved during the period, and I'm delighted that we have more customers than ever resulting in a record number of bets placed and that we've reported record revenue and profitability.
"Despite these successes, revenue growth... could have been stronger but we have delivered a significant improvement in margin resulting in profitability for the year above expectations."
Mr Yu said on Monday that he would not renew his contract when it expired in October 2012, but he is expected to leave the company before that date.
He joined Betfair in 2001 as its chief technology officer.