Could Goodwood become the next British motor show?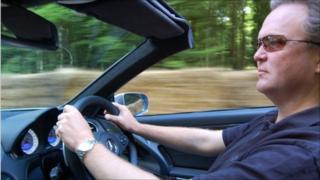 Going flat out in a Mercedes SL63 AMG up the Hill Climb is akin to going up the aisle here at Goodwood, the "High Church of Motoring".
Groomed to growl, the 518 horse power engine elevates the sleek convertible into other-worldly territory, and not only because Goodwood has earned itself a legendary reputation in the motor industry.
The estate, which is owned and run by the Earl of March, is not only home to the annual Festival of Speed, which is held this weekend, but also to the historic Revival motor race in the autumn, as well as to the BMW-owned Rolls-Royce Motor Cars factory.
But its heavenly qualities come from its latest venture, the Moving Motor Show, now in its second year.
"This is paradise," grins a 40-something chap with a bundle of entry-passes dangling around his neck as he steps out of a Porsche Panamera S Hybrid, only to march straight over to the Jaguar booth for his next experience.
High calibre customers
Unlike conventional motor shows, the one here at Goodwood gives visitors a chance to drive a wide range of cars up the Hill, giving ordinary people a chance to enjoy an experience many others can only dream of.
Some of them are lucky and get to step behind the wheels of some of the newest models on the market after simply turning up and having a chat with the representatives on the stands.
But most have reserved their slots well in advance - leaving others to drool from the sidelines.
Citroen commercial manager Bruce Munson believes this makes the show an unrivalled sales opportunity.
"I think the people who book test-drives at Goodwood are of a certain calibre, so they will want to buy," he says during a spin in the French carmaker's souped-up DS3 Racing.
'Diversity of the motor car'
Still reeling from an economic downturn that saw car sales slump in most key markets, carmakers are increasingly looking for instant and solid returns from their marketing investments.
These days, many of them deem conventional, static motor shows to be expensive and ineffective ways of reaching the right customers.
By contrast, here they get to interact with a crowd of hardened petrol-heads, attracted by the show's broad appeal.
"It is really celebrating the diversity of the motor car - not just its history, but also what you can buy today," observes Charles Morgan as he shows off a new three-wheeler, based on the sort of models his family firm used to build during its early days.
"You can't copy the past, but you can use it for inspiration," the Morgan Motor Cars boss tells BBC News in an interview.
Embryonic motor show
A strong sense of nostalgia seems to be hard-wired into the brains of both visitors and exhibitors here, with crowds of admirers flocking around splendid, old cars such as the Jaguar E-Type, an early BMW M5 or a Citroen 2CV from the 1950s.
But Goodwood has also worked hard to convince carmakers to show off models never before seen by the British public, such as the downsized Range Rover Evoque, the Citroen DS4 crossover coupe, or the Ford Vertrek prototype that is set to replace the Blue Oval's Kuga crossover.
Hence, although the Moving Motor Show has yet to rival major European shows such as those held in Geneva, Paris and Frankfurt, its ability to attract premieres has led some to see it as an embryonic replacement for the British Motor Show, which used to be held in London's Docklands and before that at the NEC in Birmingham.
"It's the only motor show in the UK now," observes Mr Morgan.
Industry showcase?
That might seem odd, given that the motor industry in the UK accounts for some 10% of exports, to the tune of £25bn per year, and that it employs more than 700,000 people.
"This country is home to seven volume car manufacturers and eight commercial vehicle makers: they produce one million vehicles and several million engines a year," according to Ford of Europe's chief executive, Stephen Odell.
Many of the leading companies in the industry are here, however, both at the Moving Motor Show and at the weekend's Festival of Speed.
And not only many of the leading global manufacturers. There are also a number of specialist manufacturers here, as well as several rally and racing teams.
These include a string of Formula 1 teams that are based in the UK.
And they will all be driving up the Hill this weekend.
For the audience, the Festival is thus promising to be quite a spectacle.
But as far as its ambitions to become a new British motor show, Goodwood still has some way to go.