UK banking sector 'falling behind global rivals'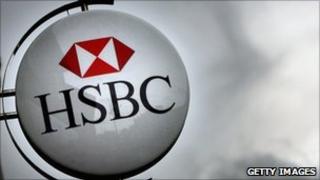 The UK banking sector has fallen behind its main competitors since the global financial crisis, a report has said.
Four years ago, UK banks were the second most profitable in the world behind those in the US, but they have now dropped to fifth place, according to the Banker magazine.
It said the UK banking industry had been overtaken in the past four years by China, Japan and France.
The Banker said the UK sector faced a struggle to regain its former position.
'Herculean task'
Profits at UK lenders are still 58% below their 2007 peak, according to the the Banker's latest ranking of the world's 1,000 biggest banks by measure of their capital strength.
In the aftermath of the global financial crisis that started in 2007, a number of UK lenders had to seek financial support from the government following the freezing up of global credit markets.
Northern Rock was nationalised in 2008, and currently remains in public ownership.
The government also had to take stakes in Royal Bank of Scotland and Lloyds Banking Group, which was formed after Lloyds TSB bought HBOS.
Royal Bank of Scotland remains 84%-owned by the government, while 41% of Lloyds is still in public hands.
The Banker said UK lenders were having to battle against continuing bad debts, increased regulation, the poor state of the UK economy, and competition claims for mis-selling payment protection insurance.
"The British banking sector was the envy of the world in the boom years," said Brian Caplen, editor of the Banker.
"It now faces a Herculean task to regain the position of strength it had four years ago.
"The poor state of much of the British banking sector three years after the crisis is a worry, and there are serious doubts over whether the sector will ever recover."
According to the Banker's latest rankings of global banks, the highest placed UK lender is HSBC, which has risen to third place from last year's fifth.
The magazine said HSBC was continuing to benefit from its large presence in Asia, as was Standard Chartered, which has risen to 36th place from 42nd.
However, Royal Bank of Scotland has fallen in the rankings from fourth to 10th, Lloyds Banking Group is down to 18th from 12th, while Barclays has dropped from 10th to 12th.
Bank of America tops the list for the second year in a row, with JP Morgan Chase again in second place.