First Equitable Life compensation payouts start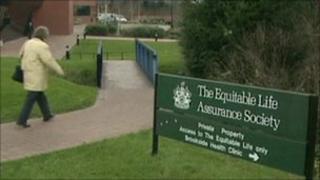 The first compensation cheques are being sent on Thursday 30 June to people who lost money invested with the Equitable Life pension company.
The compensation scheme was designed at the request of the coalition government and will eventually pay about £1.4bn to 982,000 policyholders.
They lost money after the Equitable nearly collapsed in the year 2000.
Hundreds of eligible policyholders will receive the first wave of cheques during the next few weeks.
The bulk of the compensation payments will be paid in the next three years, with the oldest policyholders being paid first, alongside inheritors of dead policyholders.
The Financial Secretary to the Treasury, Mark Hoban, said: "After a decade of delay and indecision, I am delighted that today we're beginning to send out cheques to eligible Equitable Life policyholders."
"We will pay out £1.5 billion to ensure that policyholders receive the justice they deserve," he added.
Different payouts
The near-collapse of the Equitable, once regarded as the best managed private pension company in the UK, has been the longest running financial scandal of the past decade.
Of those policyholders who will receive payments, 37,000 with-profits annuitants will share £620m as they have been have been judged to have lost the most.
They will receive their money in annual instalments while they remain alive.
The remaining 945,000 eligible policyholders will share £775m in the form of lump sums.
Not all policyholders in the Equitable are eligible for compensation.
It has been decided that about 435,000 policyholders did not in fact lose any money, while another 100,000 policyholders lost less than £10 each.
They will not be paid as it has been judged that the sums involved are too small to justify the administrative costs involved.
The Treasury said no-one had to do anything at the moment, as all policyholders due a payment would be written to during the next year.