LSE and TMX abandon £2.3bn merger plan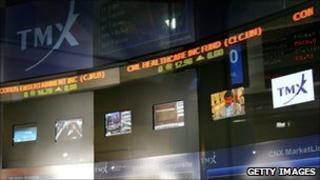 The London and Toronto stock exchanges have scrapped plans for a C$3.6bn (£2.3bn) merger because it was unlikely to win enough shareholder votes.
TMX, which owns the Toronto exchange, said that based on votes already cast, the required two-thirds shareholder support was unlikely to be met.
The LSE said in a statement that its shareholders overwhelmingly backed a merger, based on votes already cast.
Xavier Rolet, LSE chief executive, said: "We are clearly disappointed."
Tom Kloet, TMX chief executive, said the company will now review a rival takeover bid by Maple Group Acquisition, made up of 13 Canadian banks and pension funds.
TMX said it will pay a $10.3m termination fee to the LSE, and a further $29.8m if the acquisition with Maple goes through.
Bid target
Some analysts believe the collapse of the merger turns the spotlight on the LSE as a potential takeover target.
"Investors have bought into LSE stock recently in the belief the TMX bid will fail and the LSE will end up on the block," said Simon Maughan, an analyst at broker MF Global.
"I suspect there are more LSE shareholders willing to sell now," he said.
Arnaud Giblat, a director at UBS bank, said the Nasdaq exchange may be waiting on the sidelines for the London exchange.
"Nasdaq made bids for TMX and the New York Stock Exchange, and it is reportedly looking at LCH. Nasdaq seems to want to bulk up and the LSE fits the bill," he said.
Nasdaq has already twice tried and failed to buy the LSE, and in May the US company pulled out of plans to buy the NYSE.