HMV sales and profits slump continues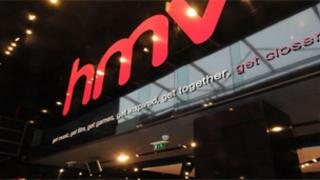 Sales and profits at struggling High Street music retailer HMV have continued to decline.
The UK firm said like-for-like sales from continuing operations fell 14.5% in its results for the year to April.
The firm hardly broke even, with profit before tax of just £200,000. Ignoring exceptional items, such as the cost of numerous store closures, underlying profits fell 61% to £29m.
The retailer is attempting to refocus its business on new technology sales.
Some 150 stores are to be refitted by September, in time for the Christmas sales period.
With sales of CDs and DVDs being undermined by competition from supermarkets and online downloads, HMV is expanding into live ticketing, and digital music and equipment.
Tough task
"We continue to operate in a challenging macro environment, and the core retail markets in which HMV trades also remain difficult," said the company.
"However, we have taken decisive action to restructure the group, and have a clear strategy for transforming HMV into a broad-based entertainment business."
The firm has sold its Waterstone's book stores and its Canadian music retail business - both of which were performing better than its core HMV UK stores.
HMV confirmed a huge impairment charge in connection with the Waterstone's sale of £112m, pushing it into a post-tax loss of £122m.
Nick Bubb, equity analyst at Arden Partners, said: "It's all about the success of the focus on new technology. [The strategy] has done well in six stores, but can it work in 100?"
"Management credibility is extremely thin," he added, after four profit warnings this year, and a previous failed strategy to diversify into clothes retailing.
Mr Bubb thinks the business will be lucky to break even this year, and has "pretty obviously got off to a bad start already".
The latest set of poor figures had been widely anticipated by the market, and the company's share price rose 2.5% in early trading on Thursday.