Carrefour and Casino's Brazilian battle heats up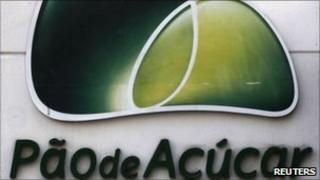 The battle between France's Carrefour and Casino for Brazilian retailer Pao de Acucar is heating up.
Casino has raised its total stake in the company to 43.1%.
It followed an approach by Pao de Acucar's chairman Abilio Diniz to merge the company with the Brazilian assets of Carrefour, Casino's big rival.
Casino has started arbitration proceedings against Mr Diniz, saying that the secret merger talks violated the terms of their partnership.
The proposed Pao de Acucar-Carrefour deal would create a firm with a 27% market share and sales of more than $40bn (£25bn) a year.
Pao de Acucar is already Latin America's second-biggest retailer.
As well as its Pao de Acucar and Extra supermarket chains, it also has a majority stake in the Ponto Frio and Casas Bahia chains that sell electrical goods and furniture.