Tesco Bank 'unlocking savings accounts'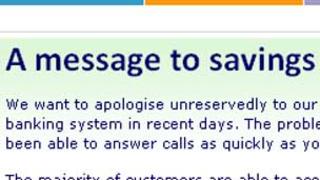 Two-thirds of Tesco Bank customers who were locked out of their accounts throughout last week have now logged back in online, the bank says.
Some 1,650 of the 2,500 who were excluded owing to technical issues are now back in the system.
The remainder had been contacted and should be able to access their accounts using the information sent to them, a spokesman said.
The bank has already apologised after admitting it failed some customers.
The problems surfaced when the bank migrated all its online savings accounts from the Royal Bank of Scotland's system to its own computers.
Two technical failures last Monday and Tuesday left people who were online at the time unable to access their accounts until they took several steps to reset their security details.
Customers' frustrations were increased when many found they could not get through on the telephone to the busy customer service call centre.
"Tesco strive to deliver service of the highest standard and for a significant minority of customers we have failed to do that," Tesco Bank chief executive Benny Higgins told BBC Radio 4's Money Box on Saturday.
"We do apologise unreservedly. It's absolutely our focus to put this right."
Earlier in the week, the bank told the BBC News website that anyone who had incurred costs as a result of the problems would be refunded.