Shortages force Japan to impose new energy restrictions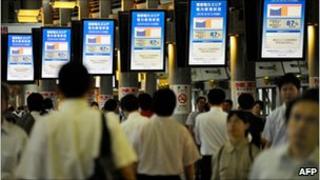 Factories, shops and offices in Tokyo have been told to cut down on their energy use because of power shortages.
Large businesses in the Tokyo area will have to use 15% less energy than last year because of the closure of the Fukushima nuclear power plant.
The latest restrictions come as Japan's big manufacturers have turned pessimistic about business conditions, according to the latest Tankan survey.
The business sentiment index plunged 15 points to minus nine in June.
It is the first negative rating in 15 months, although manufacturers expect conditions to improve later in the year.
The sentiment index is derived by subtracting the percentage of respondents who say conditions are poor from those who say they are good.
No air conditioning
The power restrictions came into force on Friday and will apply to big factories, office buildings, universities and department stores in the Tokyo area.
The new rules come as power use rises as a result of the summer heat.
Electricity use between 9am and 8pm on weekdays must be reduced by 15% compared with last year. The rules will be in place until 22 September.
Companies who use too much power could face fines of up to 1m yen ($12,400; £7,750).
"We ask their co-operation so we can all overcome the energy crunch," said trade ministry official Satoshi Koyanagi.
Firms have announced plans to cut down on their energy use.
Sony says it will turn off the air conditioning after 6pm and start the business day an hour earlier than usual.
The Tokyo Stock Exchange has turned off its electronic price ticker and will not receive visitors until the end of September.
"We are turning off all the lights and air conditioning in the visitors' areas," said stock exchange spokesperson Yukari Hozumi.
The government has already advised office workers to wear casual clothing in place of jackets and suits rather than to turn up air conditioning systems.
The earthquake and tsunami that hit Japan on 11 March led to rolling power blackouts affecting factories around the country.
Positive outlook
While the damage caused by the twin natural disasters has hit Japanese manufacturers hard, companies say they expect conditions to improve in the second half of the year.
Analysts said that as conditions on the ground improve, businesses are likely to bounce back.
"The headline index was a little weaker than expected [in June], but big manufacturers' sentiment is seen as rebounding firmly," said Takeshi Minami of Norinchukin Research Institute.
"The data confirmed the view that the worst is over and the economy will return to a moderate recovery led by manufacturers later this year," he added.
Data released earlier this week showed that factory output in Japan was recovering at a faster-than-expected pace.
Industrial production in May rose by 5.7% compared with the same month last year, the second successive month of rising output.
Stumbling blocks
However, though the supply chain conditions and industrial output have started to improve, analysts warned the recovery could be derailed by various factors.
"There are risks to such a recovery, which will be based on reconstruction demand and exports," said Mr Minami.
If a political impasse were to delay reconstruction projects in the country it would have a detrimental affect on the economy, he said.
Hiroshi Miyazaki of Shinkin Asset Management Company added that a lot of Japanese companies were anticipating increased demand due to reconstruction activity after the quake and tsunami.
"If this demand doesn't come through as expected, there is a risk of a sharp adjustment," he warned.
Analysts said a combination of other internal and external factors may also hit the Japanese manufacturing sector.
"A slowdown in the global economy would slow the recovery in exports, while power supply problems in the summer may put a lid on factory output," said Mr Minami.