UBS says Axel Weber set to be its next chairman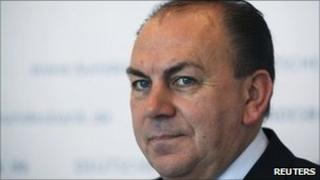 Swiss bank UBS has said it will nominate former Bundesbank boss Axel Weber to be its next chairman.
The bank said the board would nominate him at the annual meeting in May 2012 and, if elected, he will succeed Kaspar Villiger as chairman in 2013.
Mr Weber headed Germany's central bank from April 2004 to April 2011.
He had been seen as a front runner to succeed Jean-Claude Trichet as chief of the European Central Bank but ruled himself out of the race in February.
The appointment will see a German running Switzerland's biggest bank, while a Swiss, Josef Ackermann, currently heads Germany's biggest bank, Deutsche Bank, although Mr Ackermann is due to stand down in 2013.
The announcement also puts an end to speculation that Mr Weber would succeed Mr Ackermann at Deutsche.
Analysts were surprised by the news but said it was a good move by UBS.
"I think it's positive that they were able to announce it two years in advance. He's a strong candidate who was also in talks to become chairman of the management board at Deutsche Bank, so it's very good news," said Cheuvreux analyst Christian Stark.
"Villiger was always seen as a temporary solution to help UBS get through the crisis and Axel Weber's clearly got more of a connected network into the international banking industry."