Eurozone manufacturing growth at 18-month low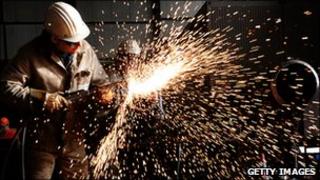 Growth in the eurozone's manufacturing sector lost steam in June as both exports and domestic demand slowed, falling to an 18-month low, a key survey has shown.
Markit's Manufacturing Purchasing Managers' Index (PMI) fell to 52.0 last month from 54.6 in May, its lowest reading since December 2009.
Any reading above 50 indicates growth.
Separate figures for May showed eurozone unemployment stable at 9.9%.
"Increasing numbers of countries are showing signs of sliding back into recession," Markit said.
Italy's manufacturing sector shrank for the first time in 20 months, while Spain's contracted for the second month in a row.
Growth in the German and French sectors slowed considerably, while the UK's manufacturing expansion fell to a 21-month low.
Gilles Moec, senior European economist at Deutsche Bank, said the data reflected two main factors: inflation hampering consumer demand and the end of stimulus measures in a number of regions, including the US.
"The weakness is no longer simply in the peripherals, it's now moving to Italy for instance," he told the BBC.
"This is painting a different picture from the one we had a few weeks ago."
Unemployment
The stable unemployment figures for May were widely expected by economists.
The European statistics agency, Eurostat, said 15.51 million people were out of work in May - an increase of 16,000 on the previous month.
However, the unemployment total is far lower than the same month a year ago, down by 551,000.
Unemployment was highest in Spain at 21% with joblessness among under 25's running at 44%.
Monthly figures for Greece were not available.