Getting your money back when a shop goes bust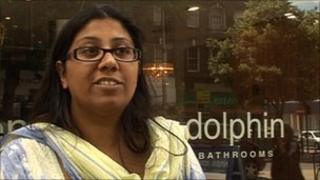 Anyone who has paid a deposit on goods from an insolvent retailer is unlikely to get their money back, if they paid by cash, cheque or debit card.
Now consumer groups want a change in the law, to at least protect those who used a debit card to pay.
The recent spate of high profile retailer insolvencies makes for worrying times on the high street.
For thousands of customers with goods on order from stores that have called in the receivers the issue is pressing.
Among the firms that have gone to the wall this past week are the Liverpool-based discount department store TJ Hughes, home furnishings group Habitat, and Homeform, the parent company of Moben and Sharps Kitchens and Dolphin Bathrooms.
Potentially tens of thousands of customers may have paid deposits on big ticket purchases, like furniture or a bathroom suite, who now stand to lose their cash.
'Worried'
Shabna Mugal of west London paid a deposit of £2,000 for her new Moben kitchen.
With no-one responding to phone enquiries, she had arrived at the Ealing branch in west London only to find it closed.
"I was a little bit worried," she says.
"I was a little bit stressed as well, because I don't know whether I'm going to get my kitchen... and I'm desperately trying to get hold of somebody at some point to be able to help me"
In fact customers come at the bottom of the list of creditors when a firm calls in the receivers.
Secured lenders, such as landlords and banks, are top of the list, followed by the administrators employed to wind up the business, who need to have their fees paid.
Customers who are owed money rank alongside staff, who may be waiting for unpaid wages.
Protection
For customers who pay with credit cards, there is considerable security.
Under Section 75 of the 1974 Consumer Credit Act, all purchases between £100 and £30,000 are covered by the credit card provider.
This ensures consumers are not left paying for goods and services they never received.
For customers paying by Visa debit there also exists the "chargeback" system.
Under this, the bank issuing the debit card will recoup the value of the purchase from the store's bank, and hand it on to you.
But for those paying with cash, cheque or Maestro card there is no such protection.
Adam Scorer of Consumer Focus says this anomaly needs clearing up.
"I think it's a bit ridiculous that consumers who have to pay by debit card don't have the same legal protection as consumers who are able to pay by credit card," he says.
"So we would like to see the same protection, under law, for consumers who pay by debit cards, as is enjoyed by consumers who pay by credit cards."
More to come?
But there are warnings that banks and retailers, who suddenly find they are liable for losses, will seek to push up costs elsewhere.
Retail sales fell by 1.4% in May and experts say more pain could be on the way, particularly for the home furnishings and improvements sector.
Tim Danaher editor of Retail Week says: "[They are] particularly vulnerable at the moment because generally they tend to be bigger ticket items and so there has to be more of a conscious decision by the consumer to go out and shop.
"At the same time people aren't moving house [and] with housing market transactions at very low volumes historically, people don't have that same need to spend."