Tiger Airways in talks with regulators over grounding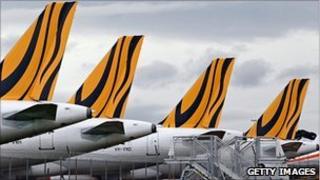 Tiger Airways will hold crisis talks with Australian regulators to try and counter safety claims and resume its domestic operations.
The Singapore-based low cost carrier's aircraft were grounded in Australia on Saturday by the Civil Aviation Safety Authority (CASA) on safety concerns.
The disruptions come at the start of peak school holiday season, which means less intense price competition.
Shares in Tiger Airways in Singapore plunged almost 20% on Monday.
The airline's domestic Australian flights will be grounded until July 9, but its flights to Singapore are not affected.
Shares of competitors rose sharply as a result, with Virgin Australia jumping 10.5% and Qantas climbing 6.5%.
'Resume operations'
Chief executive Tony Davis has flown to Australia for talks with the CASA.
The airline said in a statement to the Singapore Stock Exchange that he had been charged with getting its planes back in the air.
Tiger said Mr Davis was going to focus on "assisting Tiger Airways Australia to resume operations as soon as possible."
Tiger operates 10 Airbus A320s domestically in Australia. It moves about 9,000 passengers a day on 60 domestic flights.
It is the first time in Australia's aviation history that an entire fleet has been grounded.
Safety concerns
The grounding of the fleet came after the CASA said its concerns about safety had gone unaddressed by Tiger.
"CASA believes permitting the airline to continue to fly poses a serious and imminent risk to air safety," the regulator said in a statement.
The regulator said it had been closely monitoring the airline and had sent a notice threatening to suspend or cancel its licence over the safety issues.
"The suspension of Tiger Airways Australia follows the issue of a show cause notice to the airline in March 2011."
That notice included instructions for Tiger to improve the proficiency of its pilots, give them more training and to address issues such as fatigue management.