Australia keeps rates at 4.75% as economy slows down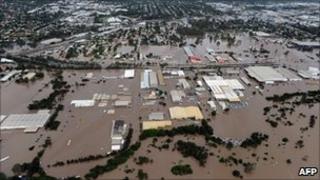 The Reserve Bank of Australia (RBA) has left interest rate unchanged at 4.75% amid growing signs of a slowdown in the economy.
Figures released on Monday showed that retail sales dipped in May as consumers tried to pay off their mortgages.
The number of full-time jobs also fell in April and May, recording their biggest decline in more than two years.
In the first quarter, the country's gross domestic product (GDP) shrank by 1.2%, the biggest fall in 20 years.
Glenn Stevens, the governor of the RBA said in a statement that though the economy was recovering from damage due to cyclones and flooding earlier this year, "growth through 2011 is now unlikely to be as strong as earlier forecast."
Global impact
In recent years, Australia's economic growth has been driven by a surge in demand for its resources from emerging economies like China and India.
However, as these countries now try to rein in their growth in an attempt to prevent their economies overheating, that demand is likely to fall.
To make matters worse for the Australian economy, the pace of global economic recovery has also slowed, affecting demand from developed economies.
"The supply-chain disruptions from the Japanese earthquake and the dampening effects of high commodity prices on income and spending in major countries have both contributed to the slowing," Mr Stevens said.
"The banking and sovereign debt problems in Europe have also added to uncertainty and volatility in financial markets over recent months," he added.
Analysts said that Australia's own economic growth would be affected by how well economies in the rest of the world recover from these shocks.
"The uncertainty is pretty clear and they link it to the domestic picture by flagging that local growth will be at trend or higher only if the world economy grows as expected," said Su-Lin Ong of RBCCM.