Persimmon expects house prices to rise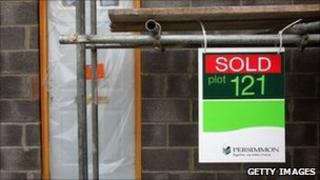 Housebuilder Persimmon has said it sold fewer houses in the first half of this year compared with same period in 2010, but expects the housing market to pick up over the rest of the year.
It also said that its average selling price in the period fell slightly, but that again it expected prices to rise over the full year.
Improvement in mortgage lending was the key to building more homes, it said.
It added that it continued to see a "modest improvement" in lending.
Prices 'firm'
The housebuilder said it had sold 4,439 homes in the first six months of the year, compared with 4,657 a year earlier.
However, it said sales were starting to improve and it expected to sell a similar number of homes this year as last.
Underlying prices "remained firm" for the year so far, the firm said. The average selling price was £162,000 against £168,936 in the first six months of last year, but this reflected a greater proportion of smaller houses being sold.
"We anticipate that our average selling price for the full year will increase as we legally complete more detached house sales," it said.
Last year, Persimmon made a pre-tax profit of £153.9m, almost double the £77.9m the company made in 2009. Revenues grew 10.5% to £1.57bn.
The average house sale price rose by 4% to £172, 475.
Last week, Nationwide said house prices in the UK had "moved sideways" in the past six months, and recent figures have suggested that mortgage lending remains subdued.