Eurozone services sector growth slows again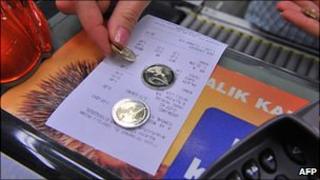 Growth in the eurozone services sector slowed again in June to hit an 8-month low, while business confidence slipped to its lowest level in two years, a survey suggests.
The closely-watched Markit PMI Services index fell to 53.7 from 56.0 in May. Any reading above 50 indicates growth.
Growth in France eased "sharply", while the services sector contracted in Italy, Markit said.
Business confidence fell in Germany, France, Italy and the Irish Republic.
In Spain, however, it improved slightly.
Outside the eurozone, the UK service sector PMI edged up to 53.9 in June from 53.8 in May.
Higher costs
"Domestic demand continued to stymie services growth across the region's peripheral countries, reflecting a combination of economic uncertainty and deficit-reducing austerity measures," said Chris Williamson, chief economist at Markit.
He said France and Germany continued to drive eurozone growth.
"But with manufacturing growth having slowed sharply in both these countries in June, the concern is that services activity could also trend downwards in coming months," he said.
Germany and France were, however, the only two countries in the eurozone to record jobs growth in the service sector.
Markit also reported that input costs for service providers "rose markedly" in June.