Sports Direct buys USC and Cruise fashion firms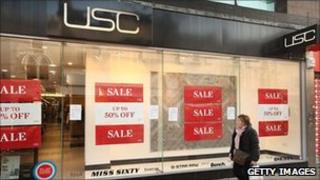 Sports Direct has bought an 80% stake in two fashion businesses owned by retail tycoon Sir Tom Hunter.
The sports retailer paid £7m to take control of USC and Cruise Clothing, which specialise in designer brands.
Sir Tom will retain a 20% shareholding in both businesses and will remain as chairman of both companies.
USC has 38 stores in the UK and had sales of £70m in the year to January. Cruise has 10 UK stores and an annual turnover of about £20m.
Sports Direct, whose founder is Newcastle United owner Mike Ashley, will also provide a facility of up to £20m to develop the two businesses.
"This deal will transform the prospects for both USC and Cruise and our employees at a time of extraordinary turbulence in the High Street," Sir Tom said.
"I've known the Sports Direct team for many years and have huge respect for their talent and look forward to co-investing with them."
Sports Direct chief executive Dave Forsey said: "While USC and Cruise will remain independent of Sports Direct, we will support the businesses with our operational expertise."
Reports suggest that Sports Direct beat rival JD Sports to the deal.