China raises interest rates to try to tackle inflation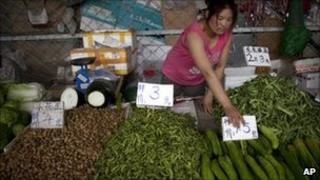 China has increased its main interest rates for the third time this year to try to curb inflation.
The Chinese central bank, the People's Bank of China, said its one-year lending rate would rise to 6.56% from 6.31% and its one-year deposit rate to 3.5% from 3.25%.
The country's consumer price measure of inflation hit 5.5% in May, the highest rate for almost three years.
The higher interest rates will take effect from Thursday.
The government has made tackling inflation its top priority. Food prices are of particular concern as they are rising much faster than general prices.
"Stabilising the general level of consumer prices remains the top priority of our macroeconomic regulation," said Premier Wen Jiabao on Tuesday.
The price of pork has risen by more than 50% in the year to the end of May. This has been blamed on supply problems and the rising cost of feed.
Speaking on a visit to a market over the weekend, Premier Wen promised that pork prices would begin to fall in the coming months.
"With the implementation of government measures, price rises will be curbed effectively," he said.
Last rise?
Most economists had expected the central bank to increase rates this month and some think this may be the last move for some time.
"China's inflation battle is almost at an end," said Frederic Neumann, from HSBC in Hong Kong.
"Already, there are signs that price pressures are coming off. Today's rate hike may therefore have been the last in the cycle," he said.
However, others think inflation will continue to worsen, necessitating further rate rises.
"I think this will not flag an end of the tightening measures and the central bank could raise interest rates once more for the remainder of the year," said Qiao Yongyuan, an analyst at research firm CEBM in Shanghai, who thinks that June's inflation rate will be more than 6%.
Those inflation figures will be released next week.
A report from China's CCBIS bank released earlier suggested that inflation would peak at 6.2% in June.