ECB expected to raise eurozone interest rates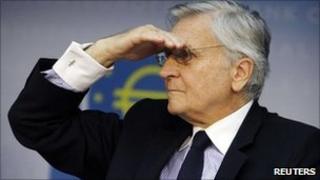 The European Central Bank (ECB) is expected to raise interest rates later in an attempt to cool inflation.
Despite debt problems facing some smaller eurozone nations, the ECB is worried about overheating in economies such as Germany.
Last month, the ECB said it would keep "strong vigilance" on inflation - seen as a signal that rates will rise to 1.5% from the current level of 1.25%.
Eurozone inflation is 2.7%, above the ECB's target of just below 2%.
The ECB's primary role is to keep inflation low by setting interest rates for the 17 countries that use the euro.
But any rise would increase borrowing costs, adding to pressure on countries such as Greece and Portugal.
Marie Diron, senior economic advisor to the Ernst & Young Eurozone Forecast, believes a rate rise could be the wrong move, given the weakness of some eurozone economies.
She told the BBC: "The ECB is focusing on those core countries that are growing very strongly, and that's where it sees the inflation risk.
"We think the ECB should wait, given the danger of a crisis in Greece and other countries. We think that inflation could be very low next year," she said.
The continuing strength of Germany's economy was underlined this week with figures showing that manufacturing orders rose 1.8% in June. Many analysts had forecast a fall.
In a press conference following the interest rate announcement ECB president Jean-Claude Trichet is likely to face questions on Europe's debt crisis.
Since the last ECB meeting in June, the eurozone avoided its first debt default since its creation in 1999 after the Greek Parliament approved austerity measures required by international creditors.
The ECB has played a central role in the debt crisis by keeping Greek banks afloat with emergency cash.
A rate rise would strengthen the euro against the pound, something analysts expect to continue.
Chris Redfern, senior dealer at the Moneycorp foreign exchange firm, said: "Overall the euro looks set to remain strong in relation to the pound, despite the continuing debt issues a number of its members are facing and it may remain so until the Bank of England signal they are ready to raise UK interest rates."
The Bank of England has kept UK rates at a record low of 0.5% for more than two years.