Supercharged: Why do Silicon Valley firms grow so fast?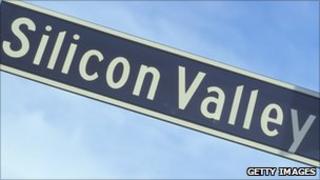 How can Silicon Valley companies go from idea to stockmarket darling in just a few short years?
Online business network Linkedin, for example, reached a valuation of $6.4bn (£4bn) after just nine years in business; Facebook is expected to hit $100bn after eight years.
The Valley has built an enviable process for getting companies from nothing to everything - fast.
The right platform
Start-ups need three ingredients: ideas, people and money.
One popular approach is to build a company and its products around a platform with a high growth rate - places like Facebook, Apple's iPhone and Google's Android mobile software.
Zynga, the maker of social games like Farmville, grew to its current estimated $10bn valuation through its collaboration with Facebook.
The app stores for both Apple's iPhone and Android handsets are seeing tremendous growth - Apple has sold more than 200 million devices since 2007 and Google is activating 400,000 Android phones, every day.
The right sector
Once the platform is chosen, the next decision is the sector. Again, companies look to see which sectors have the best growth. Among the hottest right now are:
Social gaming - a sector estimated to be worth $1.25bn this year alone. Zynga, for example, had revenues of $598m in 2010 and $235m in the first quarter of this year alone.
Mobile gaming - with games like Angry Birds among the most popular. The sector is growing about 60% a year and is now thought to be worth $800m. Companies like TinyCo have taken advantage of this tremendous growth by raising $18m in funding during the past two years.
E-commerce, once a fairly stagnant sector, has been rejuvenated by online coupon and social buying companies like Groupon and Social Living.
Marketplaces - such as Airbnb, where users can rent out spare rooms in people's homes rather than going to a hotel; according to reports the firms is in the process of raising $100m, which would value it at $1bn.
Lots of money
Companies have to know how much money they need, and then convince someone to give it to them.
Silicon Valley firms generally start by raising a 'seed' investment of $50,000 or less. This gives the founders enough to survive while getting a basic product to market.
At this stage many companies try to get into incubators for start-ups, such as Y Combinator, which is now a well-known hunting ground for investors hoping to find the next Facebook.
Following the seed investment, they will try to raise a 'Series A' investment, of about $1m to $3m. This allows a company to start growing its team and establish a foothold in the market. If successful, they can go on to raise a 'Series B", an investment of anywhere between $8m to $15m. The money will be used to fuel rapid growth.
Of course, there are companies that throw these general funding rules out the window. Zynga raised a $10m Series A, and six months later went out to get an additional $29m. In total, Zynga has raised $845m in four years. As the Silicon Valley saying goes: Raise money when you can, not when you need to.
After speaking to some of Silicon Valley's top investors and entrepreneurs, it is clear that investors look for three things above everything else: market, technical team and management.
The potential market needs to be worth more than $1bn (£625m) and growing. This gives the company enough room to manoeuvre and grow in its market.
The top employees need to have the right technical background.
Finally, for many investors the management team is the decisive factor. It is not uncommon for investors to spend hours speaking to other entrepreneurs, to get a more rounded view of the management team.
How to spend it
Once the financing is in place, start-ups have to decide how to spend the money.
One of the biggest costs is hiring, which is currently a major issue in Silicon Valley. There are simply not enough computer engineers to go round.
However, the situation is likely to relax for start-ups, once firms like Facebook and Zynga have floated on the stockmarket. Then thousands of their employees can cash in their stock options and will not be locked in anymore.
Companies may need to work hard to get the right staff, but they need to work equally hard to keep them.
To do this they need a great culture. In Silicon Valley there is no such thing as 9 to 5; you will get odd looks in the office if you turn up in a suit; and many companies have games rooms for their workers to relax.
Google even encourage its staff to set aside 20% of their time to work on separate projects that they are interested in.
Stigma of failure
If Silicon Valley has managed to build this process, why hasn't the UK?
There are three differences that may prevent it: community, cash and scale.
Silicon Valley has a distinct community. It's packed with entrepreneurs and investors, openly supplying introductions and exchanging ideas and feedback.
And unlike the UK, there is no social stigma attached to a previous business failure.
Secondly, there is a ready supply of cash from venture capital firms and angel investors - an affluent individual who provides capital for a business start-up - and the money can flow quickly (many entrepreneurs can close a $200,000 investment in 45 minutes over a coffee).
Finally, there is scale. While many UK companies aim to be leaders of the national market and have earnings in the tens of millions, Silicon Valley firms think larger. They want to be global leaders with earnings in the billions.
It really is Go Big or Go Home.
Andrew McCalister was commissioned by the University of Cambridge and the Royal Academy of Engineering to write a report on Entrepreneurship in Silicon Valley. He currently works for start-up firm Heyzap and is board adviser to Mino Monsters.