UK economy recovering too slowly, BCC says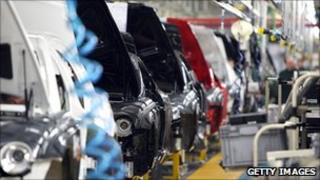 The UK economy is recovering too slowly and more support needs to be provided for private sector firms, the British Chambers of Commerce has said.
The group's survey for April to June was more positive than the previous three months, but the BCC said that the UK economy was "fragile".
Another survey suggested confidence among UK manufacturing firms had fallen to its lowest level in two years.
Accountants BDO blamed the fall on weak demand domestically and from overseas.
'Out of balance'
The BCC's report is taken from 6,600 responses from businesses across the UK.
It found that, "the UK's economy is fragile, particularly at a time when the government is continuing to reduce the deficit".
The BCC estimates that the economy grew by 0.3% in the second quarter of 2011, and it is concerned about the effect that weak growth in the rest of the world will have on UK exporters.
"Our economy is out of balance. The public sector is too large and the private sector is too small," said BCC chief economist David Kern.
"To minimise dangers of a setback, the government must implement more growth-enhancing policies that will enable private sector firms to increase productivity and drive the recovery forward."
The BCC warned in particular against a rise in interest rates from the Bank of England.
Growth options
BDO's Business Trends optimism index for the manufacturing sector fell to 90.1 last month, from 97.5 in May, and way down from 116.4 in February.
It also pointed out business sentiment in the eurozone had been hit by the continuing sovereign debt crisis.
BDO said such a large slump in business confidence in the manufacturing sector was of real concern, given that the sector had provided the propulsion for the economic recovery so far.
"To reinvigorate the sector and the economy more widely, we need a three-pronged approach," said Peter Hemington, partner at BDO.
"First, we urge the government to implement supply-side reforms - particularly reform of the tax system, measures to encourage private sector investment in infrastructure and introducing more flexible employment laws to facilitate businesses' ability to react swiftly to volatile conditions," he said.
"Second, although inflation remains high, low interest rates are essential to maintain momentum for growth, by driving spending at a time when consumers are feeling the pinch.
"Third, as recovery prospects over 2011 seem sluggish at best, the Bank of England should continue to consider a third round of quantitative easing to provide some much needed impetus for growth."
BDO's output index also fell in June, while the wider business optimism index - which includes other sectors as well as manufacturing - also dipped.
BDO's surveys are compiled by the Centre for Economics and Business Research and cover 11,000 companies from a range of industries.