US in push for China audit deal amid stock scandals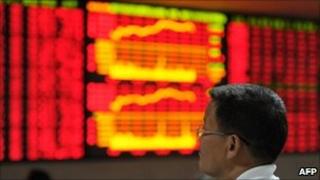 US and Chinese officials are meeting this week to discuss how to oversee the auditing of Chinese companies whose shares are listed on US markets.
Accounting scandals at Chinese firms listed in the US have increased pressure on regulators in both nations.
US officials want a deal that will give them the right to investigate auditing companies in China.
But China has opposed allowing inspections of its accounting firms as an infringement of its sovereignty.
However, China has indicated that joint inspections may be an option.
'Common objective'
Since March, 30 US-listed Chinese firms have had their auditors resign and 20 have been delisted.
James Doty, chairman of the Public Company Accounting Oversight Board in the US, said that the trip was a first step to finding a resolution to cross-border auditing problems.
"I believe we share a common objective with Chinese regulators to protect investors and safeguard audit quality through our mutual co-operation," he said.
He will meet his Chinese counterparts on Monday and Tuesday.
Many of the companies embroiled in scandal went public in the US through back-door listings or reverse takeovers, which involve the purchase of an existing shell company.
And even though many of the companies use US-based auditors, officials have expressed concern about the lack of current, accurate information about the companies and their finances.
In May, IT firm Longtop was accused by its auditor Deloitte of "very serious defects", including faking its bank statements. The company says it has begun an internal investigation.
The problem is not just confined to Chinese companies listed in the US. Toronto-listed Chinese tree plantation owner Sino-Forest Corp has seen its shares plunge by 73% since 1 June after allegations that the firm had faked land holdings.
The company denies the claims, but it has been enough to unsettle US hedge fund manager John Paulson, who lost $500m when he decided to sell his stake in the firm last month.
In Hong Kong, another tree plantation owner, China Forestry, admitted in May that its bank statements and harvesting records had been faked, while its accounts had gone missing.
Their disappearance was blamed on its former chief executive who was detained in China in February for embezzlement.
Young market
The events highlight some of the difficulties of investing in China, where a booming economy has not necessarily ensured stock market gains.
China's benchmark Shanghai Composite Index ended last week at 2,797.70, less than half the high it attained in 2006 and down almost 8% in the past three months.
The country's stock markets are barely 20 years old and insider trading, market manipulation and other abuses are still said to be common.
Corporate governance can be lax and Chinese companies are often rumoured to have three sets of accounts - one for the auditors, one for the government and one for the managers.
Furthermore, the government remains the main shareholder at many major listed firms and its interests do not always align with those of financial investors.