Renault sees global car sales hit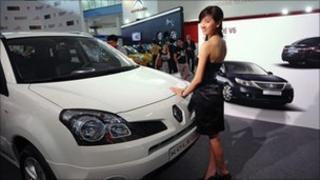 Renault's global car sales grew just 0.4% in the first six months of 2011 after it was hit by a big decline in sales in Europe.
Its European sales slumped 9.6% during the six months from a year earlier, as the company said supply problems meant it was unable to keep up with orders.
When its range of light commercial vehicles is included in the figures, Renault's global sales rose 1.9%.
Carmakers have been bit by reduced supplies of parts coming out of Japan.
This is a result of March's earthquake and tsunami in Japan disrupting production.
The Renault group sold a worldwide total of 1.19 million cars in the first six months of the year. This includes its Renault range, as well as its Dacia and Renault Samsung brands.
Its global sales of light commercial vehicles (LCVs) totalled 181,559, up 12.7%.
For 2011 as a whole, Renault now expects to see combined car and LCV sales growth of between 3% and 4%, down from its earlier forecast of more than 4%.