Luanda 'most expensive city for expats'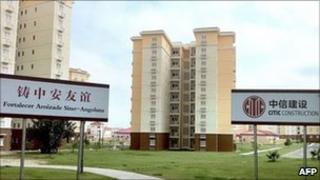 Luanda, the capital of Angola, is the world's most expensive city for expatriates, according to a survey.
Luanda topped Mercer's Cost of Living Survey for the second year in a row, followed by Tokyo in Japan and N'Djamena in Chad.
New to the top 10 were Singapore, ranked eighth, and Sao Paulo in Brazil, which jumped from 21st to 10th.
The survey covers 214 cities and compares costs of items such as food, housing, transport and clothing.
New York is used as the base city for comparison, with currency movements measured against the US dollar.
Mercer said that Brazilian cities had risen in the rankings as the country's currency had "strengthened significantly" against the dollar.
As well as Sao Paulo, Rio de Janeiro rose 17 places to joint 12th and Brasilia jumped 37 places to rank 33rd this year.
Mercer also said that the cost of living in cities across Europe had "remained relatively stable".
Moscow was the most expensive European city, ranking fourth overall for the second year in a row, Geneva remained in fifth position, while Zurich rose one place to seventh.
London dropped one place from 17th to 18th.