Alcoa profit rises on higher metal prices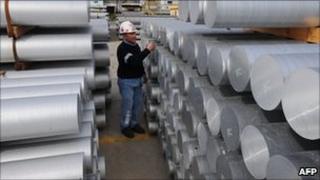 US aluminium-maker Alcoa has posted a big increase in second-quarter profit, helped by rising metal prices.
Net profit for the three months to the end of June came in at $322m (£202m), compared with $136m in the same period last year.
Sales rose 27% to $6.6bn.
Aluminium sold in a range of $2,500 to $2,600 a tonne on the London Metal Exchange during the second quarter. In the same quarter a year earlier it had sold for just under $2,000.
However, the price is still well below its record high of $3,380 per tonne, reached in July 2008.
Alcoa, which the markets watch closely for a signal about the earnings period to come, said although the economic recovery is uneven, its outlook remains positive.
It reiterated its forecast that global demand for aluminium will grow by 12% this year and double by 2020.