Philippines exports drop as electronics shipments fall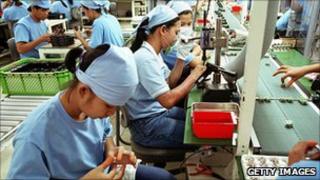 Philippines exports fell for the first time in 20 months as shipments of electronic goods, the country's biggest export, plunged in May.
Exports of electronic goods slumped by 26% in May, compared with the same month last year according to the latest data of the census department.
The country's overall exports dipped by 3.2% compared with the same month last year.
Exports are a key driver of the economy of the Philippines.
"This reflects the delayed impact of regional supply-chain distortions after the Japan's earthquake, which resulted in weak demand of electronics intermediate goods," said Vincent Tsui of Standard Charted Bank.
Double whammy
The Philippines' electronics sector has been facing a tough time due to a combination of factors.
George Worthington of IFR Markets said that the slowdown in the sector is due to "slowing or weak demand conditions in the US and Japan, combined with robust competition in the commoditised goods, that make up much of local exports, such as semiconductors."
Analysts say the sector is also being hit by emerging countries trying to rein in growth to prevent their economies overheating.
"Gradual monetary tightening and shift to slower, more sustainable growth, from last year's post-crisis bounce are also hitting electronics demand," said Mr Worthington.
He also warned that given the slowdown, the Philippines may not be able to achieve its targets for export growth.
"This year's target of eight to ten percent growth for electronics exports looks almost impossible to hit now, with a nine percent fall recorded for the first five months of the year," he said.