Property 'stalemate' continues, surveyors say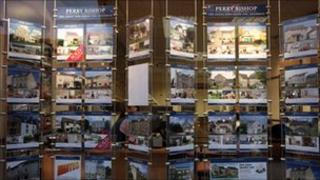 The UK property market remained in "stalemate" in June, according to the latest survey by the Royal Institution of Chartered Surveyors (Rics).
Prices continued to fall back while sales rose only "marginally".
The continuing downward trend in prices was underlined by the government's own house price index.
The Department for Communities and Local Government (DCLG) said average UK prices dropped by 0.5% in May, and by 1.6% over the past year.
Only in London have prices gone up in the past year, the DCLG said.
"Average prices decreased during the year in England (-1.3%) and also decreased in Wales (-6.1%), Scotland (-2.5%) and Northern Ireland (-13.2%)," the DCLG reported.
It said the average UK house price was now £203,528.
London resilient
Rics said the number of enquiries from potential new buyers was unchanged while the number of homes put up for sale fell slightly.
Rics said the rationing of mortgage funds and economic uncertainty meant the "stalemate" would continue.
Alan Collett of Rics said: "With continued uncertainty over the jobs market and the economy, this subdued picture is set to continue."
"London, however, remains a market apart with both sales and prices showing a greater degree of resilience."
'Stable conditions'
The Rics survey is based on responses from 272 estate agents who are Rics members, but the survey traditionally has its finger on the pulse of the market.
"Anecdotal evidence from surveyors suggests that the uncertain economic climate is making transactions more difficult and longer to conclude," Rics said.
The Rics survey chimes with the latest data published on Monday by the Council of Mortgage Lenders (CML).
It said that in May, the number of new loans for house buyers rose by just 1.7% from April, to 41,500.
However, this was still 5% lower than the level of mortgage lending recorded in May last year.
Only 15,900 loans were made to first-time buyers, up 0.6% from April but down 2.5% from May 2010.
These buyers were still having to put down deposits averaging 20% of the value of the homes they were buying, reflecting the continued caution of lenders in offering new loans.
"There is no evidence of any drastic changes on the horizon or any significant shifts in direction for the mortgage market," said Michael Coogan, the CML's director general.
"These stable conditions are expected to continue for the rest of the year."