Carrefour shares fall on Pao de Acucar deal worries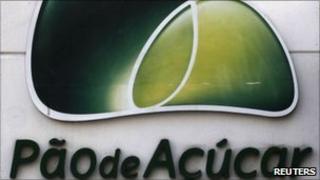 Shares in French supermarket giant Carrefour fell as much as 4.6% amid reports that a merger deal in Brazil may have stalled.
Brazil's government is said to have withdrawn its financial and political support for a controversial tie-up between retailer Pao de Acucar and the local unit of Carrefour.
The deal depended on financing from Brazil's BNDES state development bank.
Carrefour's French rival Casino has strongly opposed the merger.
The two French companies, along with America's Wal-Mart, are competing vigorously in Brazil's fast-growing grocery market.
Casino called the merger "expropriation", and there were signs the Brazilian public was growing hostile to the deal.
The merger was championed by Brazilian tycoon and Pao de Acucar shareholder Abilio Diniz.
He is a big shareholder in Casino, and the merger plan has reportedly strained relations between Mr Diniz and the company.
Mr Diniz, the 74-year-old son of Pao's founder, was due in Paris on Tuesday for a meeting with Casino executives.
'Soap opera'
Analysts said the decision was a blow to Carrefour, which has been restructuring and recovering from three profit warnings in under a year.
"Management clearly expected that the deal would go through and that the synergies would form a core part of its ability to significantly improve its Brazilian hypermarket profitability," said Royal Bank of Scotland analyst Justin Scarborough.
"If the deal falls apart, then this would be disappointing," he said.
However, few analysts think the story is over.
"I expect this will be a very long soap opera with lots more twists and turns," said Chris Hogbin, analyst at Bernstein.
Shares in Carrefour closed down 2.7%.