US trade deficit widens to more than $50bn in May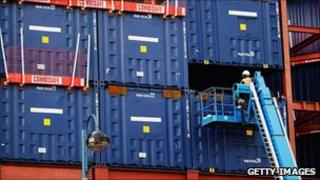 The US trade deficit widened to $50.2bn (£31.7bn) in May, the highest level for 31 months, as oil imports surged.
The trade gap rose from a downwardly revised $43.6bn in April, according to Commerce Department figures.
Oil prices helped push imports to the second highest level on record, while exports fell slightly from April's record high.
The unexpected 2.6% rise in imports to $225.1bn may prompt economists to revise US domestic growth figures.
The data shows that the trade gap with China jumped more than 15% to $25bn.
US companies imported $32.8bn of goods and services from China and exported $7.8bn to the country.