John Lewis takes Middle England abroad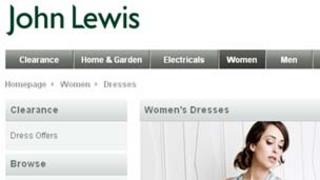 John Lewis, Middle England's favourite department store, is hoping that "beige" can take over the world.
The company, whose own marketing director recently admitted it could be accused of being that bland colour, is opening its website to overseas customers.
With orders now being accepted across most of western Europe, John Lewis will be expanding its online operation to the US, Canada, Australia, New Zealand and Singapore by the end of the summer.
And the company has high hopes for the operation, targeting £300m of foreign sales per annum within five years.
If achieved, this would be half John Lewis's current total annual website sales of £600m.
Marketing move
"There has always been a big interest in overseas sales, with 5% of traffic to the website coming from abroad," says John Lewis commercial director Andrea O'Donnell.
"Lots of people abroad are interested in, and warm to, the John Lewis brand."
John Lewis expects most initial overseas orders to come from British ex-pat communities, but it intends to build brand awareness among foreign populations.
To do this, it has launched a widespread marketing campaign, advertising on Google, and flying fashion journalists from across Europe to its headquarters in London.
It remains coy on how much it is spending, though.
Overseas customers will be able to choose from about 150,000 products, including 105,000 fashion items, 500 electronic goods and 45,000 household items - anything that does not need to be delivered by two people.
Delivery charges will be the equivalent of £7.50 across Europe, and £15 for the rest of the world.
Waitrose, John Lewis's supermarket chain, is not included, because of issues of food perishability or damage.
'Unbeatable' range
But is John Lewis' range of clothing enough to persuade Spaniards away from Zara? And can its home furnishings tempt Scandinavians to forgo Ikea?
Ms O'Donnell is confident.
"We wouldn't be doing this if we didn't think we had an appealing range," she says. "We are unbeatable in the medium-to-premium price points."
"This is a big opportunity for us, and we are very excited."
But what about John Lewis opening actual stores abroad?
"We have no plans at present, but we haven't ruled it out. It could be on the agenda for the future," says Ms O'Donnell.
However, she pointed out that building overseas stores was much more difficult than establishing a global website.
"An international online operation is relatively straightforward. You can access many more customers in a relatively cost-effective way.
"Exporting through bricks is much more challenging."
She cites Tesco's continuing difficulties with its loss-making Fresh & Easy stores in the US, and Marks & Spencer closing its then European outlets in the early 1990s.
Ms O'Donnell adds that John Lewis's partnership model - all staff own a share in the business - is another factor that would add "complexities" to building overseas stores.
'Smart move'
While John Lewis says opening up its website to international orders will be anything but beige, what is the opinion of retail analysts?
They are broadly supportive, and pleased that John Lewis is starting with the online route.
"The great thing about online, is that it is a much easier way to access the whole world than building stores," says Maureen Hinton, lead retail analyst at Verdict Research.
"It will enable John Lewis to expose its brand to new markets and find out where the demand is.
"Where John Lewis may struggle is that is it well known for its home products, and it isn't going to be able to deliver the heavier items overseas."
Mike Dennis, retail analyst at MF Global, said it was a "smart first move" by John Lewis into the international marketplace.
"The assumption is that British ex-pats want access to what is a very trusted brand," he says.
"What will be more difficult for John Lewis is attracting foreign customers. It is going to have to do some serious advertising in countries such as Germany to gain brand recognition."