UK trade deficit worsens in May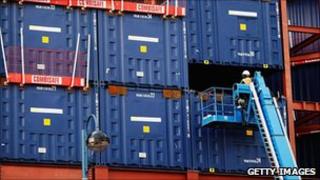 The gap in the UK's balance of trade widened unexpectedly in May.
The overall deficit for the month was £4.1bn, according to the Office for National Statistics, up from £3.1bn the month before.
The widening deficit was driven by a 13% surge in imports of semi-manufactured goods, notably chemical products, which rose 20%.
The overall goods deficit, excluding services, rose to £8.5bn - well above the £7.4bn expected by analysts.
Economists said that the data provided further evidence that growth in the UK economy may have stagnated in the second quarter of the year.
The volume of total exports grew 1.9% in the month, after seasonal adjustment, and excluding oil and erratic items.
The figure for imports was 6%.
There were some encouraging signs in the data.
The country's services trade surplus - which is dominated by the financial services the UK provides to the rest of the world - remained steady during the month.
Meanwhile, falling crude prices helped the UK reduce the value of its net imports of oil.