News Corp plans $5bn share buy-back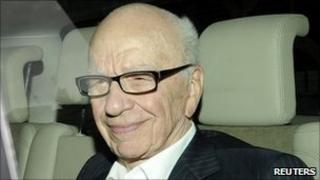 News Corp has announced plans to buy back $5bn (£3.2bn) of its shares as it attempts to contain the phone-hacking scandal that has sent its share price down in recent days.
News Corp shares have fallen 14% since 4 July after the scandal broke, wiping about $5bn off the company's value.
The group said in a statement that it would increase an existing buy-back programme of about $1.8bn to $5bn.
The move followed investor pressure to support the stock.
It came a day after News Corp's bid to take full control of British broadcaster BSkyB was referred to the Competition Commission in the UK.
The bid has faced growing opposition since allegations emerged that the News of the World, which was owned by News Corp, hacked the phones of murder victim Milly Dowler and relatives of dead soldiers.
The News of the World has since closed.
Shares in News Corp rose more than 2% when the buy-back was announced, but later fell back.