Chinese carmaker BYD's shares fall on profit warning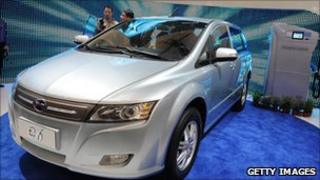 Shares of the Chinese car and battery maker BYD have fallen at the stock exchanges in Hong Kong and Shenzhen, after the company issued a profit warning.
BYD said its profit for the first half of the year could plunge by as much as 95% because of a drop in car sales.
BYD's shares dipped by as much as 6.7% in Hong Kong.
The company said the end of tax incentives for small cars in China had hit demand for its vehicles.
BYD revealed that its profit for the first six months of the year is likely to be between 121m yuan ($18.7m; £11.7m) and 363m yuan, compared with 2.4bn yuan during the same period last year.
Uncertain times?
BYD's problems are not just confined to falling car sales, its other business units have also witnessed a recent slump.
The company said that sales of components that it makes for mobile telephone handsets and its assembly business also declined during the first half of the year, as one of its major customers deferred orders.
Last month, BYD reported that its first quarter profit dropped by 84%, compared to the same period last year.
Analysts said that given the company's recent performance, there may be more tough times ahead.
"It's below my expectation and there is a chance that they make a loss in the second quarter," said Steven Man of Samsung Securities.
Billionaire US investor Warren Buffett's company MidAmerican Energy, holds a 9.9% stake in BYD.
The renowned American investor, who made his fortune from the investment firm Berkshire Hathaway, is dubbed the Sage of Omaha.