Carrefour's Pao de Acucar merger plans suspended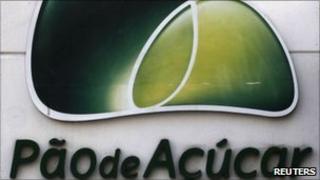 Brazilian retail tycoon Abilio Diniz has suspended plans to merge his supermarket chain Grupo Pao de Acucar with the local arm of France's Carrefour.
His move comes after Brazilian state development bank BNDES backed out of supporting the deal.
Carrefour's French rival Casino, which owns a major stake in Grupo Pao de Acucar, had also opposed the deal.
Brazil's fast-growing grocery sector is seen as a big investment opportunity.
Despite Mr Diniz suspending the merger plans, analyst Natalie Berg from Planet Retail said it left Casino in a difficult position.
"There is not really a winner here, as Casino is stuck with a partner whose interests are obviously elsewhere," she said.
The deal's suspension comes as Carrefour continues to seek to expand its global operations to offset a weak French retail sector.
'Resilient' trading
Carrefour, which has issued three profit warnings in the past year, reported a slight fall in quarterly global sales on Tuesday.
Its worldwide like-for-like sales excluding petrol in the three months to 30 April were 0.2% lower than a year earlier.
By contrast, like-for-like sales growth at its Brazilian operations were up 10%.
"Our sales performance was resilient in Western Europe and strong in Latin America and Asia," said Lars Olofsson, Carrefour's chairman and chief executive.
Carrefour has had a presence in Brazil since 1975, and has more than 500 outlets including those of its Atacadao cash and carry brand.