Rental properties in strong demand, landlords say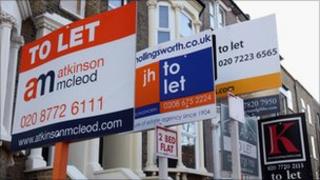 There has been a continued rise in the number of people looking for homes to rent, a survey suggests.
The Association of Residential Letting Agents (ARLA) said 74% of its members had more prospective tenants than homes to let.
Two years ago a similar survey found only 10% of letting agents had an over-supply of would-be tenants.
ARLA said many people were being forced to rent homes because they could not afford to buy.
Ian Potter of ARLA said there was a "clear shortage" of homes for people to buy.
"Faced with this, many people are turning to rental homes as a more flexible option than buying," he said.
"Yet as our research highlights that the dearth of properties is just as real in the private rented sector and is showing no signs of improvement."
Debbie Vowles, of Andrews letting agents in Bristol, said: "We are seeing an average seven prospective tenants for every rental property available, and even more for three and four-bedroom family properties."
"Those properties are flying off the shelf," she added.
The problem is most acute in central London, where 82% of ARLA members said they had a surplus of prospective tenants, compared with just 8% two years ago.
ARLA surveyed 479 members in the second quarter of this year.
The growth in demand for rented property was also seen last week in the findings of the English Housing Survey, published by the Department of Communities and Local Government (DCLG).
It revealed that between 2005 and 2009-10 the number of people renting homes privately in England had risen by 1 million to 3.4 million - a rise of 40% in that time.
The Council of Mortgage Lenders (CML) said: "Private renting had grown to account for 16% of households, while 17% rented from social landlords."