Guards Polo Club eyes global commerce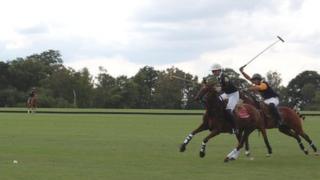 It is far from glitzy, with no hint of any champagne-fuelled glamour, as a small group of middle-aged men get ready for a game of polo.
Braving the threat of rain, they chat quietly while pulling on worn leather boots and tightening the straps on their knee-pads and hard hats, all prepared for some tough action on the pitch.
As the fast-paced game kicks off, just a handful or two of die-hards have gathered to watch the game, including wives of the players and their children in pushchairs.
The audience is outnumbered by grooms dressed in jeans and T-shirts who are looking after the several dozen polo ponies the men have brought along in large, battered horse boxes.
But although it is low-profile, the entire circus is clearly an expensive affair.
The everyday realities of polo are more about costly logistical challenges than about the sort of showmanship and lavish partying that will be evident at the Cartier International tournament here at Guards Polo Club on Sunday.
Playing catch-up
There is one universal truth about the sport of polo, however, whether on the pitch on a quiet weekday or alongside it during a big tournament: pretty much everyone involved is paying large sums to take part.
Polo teams are generally paid for by playing patrons, who tend to be wealthy individuals with money to burn. Each patron will be part of a team of four players - him or herself along with three professional players - with additional cash paying for several strings of ponies, as the horses are called in the sport, as well as staff looking after horses, vehicles and players.
Additional income comes from sponsors that are eager to reach the sport's affluent audience. Some of them even pay for the parties that are usually held alongside major tournaments to entertain loyal customers and clients.
Other parties, which are often slightly less exclusive, sell tickets that can nevertheless cost hundreds of pounds per head.
It is tempting, therefore, to think of the world of polo as a lucrative place to do business, but that is not necessarily so, according to Neil Hobday, who was appointed chief executive of Guards Polo Club in Surrey last month.
"Polo has been playing catch-up commercially, in a business sense," he observes, pointing out that few clubs make any money.
Protecting the brand
Guards Polo Club is an exception, Mr Hobday insists, thanks to the efforts of his predecessor Charles Stisted, who died in a helicopter accident last October.
"Charlie was able to put in place much-needed improvements," Mr Hobday says, pointing to how Mr Stisted had a new clubhouse built, along with several new grounds and the sprucing up of the club's nearby Flemish Farm, which houses some 100 ponies and 28 grooms.
"From a commercial point of view, he actually put together a profitable enterprise, which in polo in Europe is quite an achievement."
Central to Mr Stisted's efforts was his belief that any moves away from the club's core activity - the sport itself - would need to be handled with great care.
Under Mr Stisted, the club lent its brand to various accessories such as perfume and sunglasses, though only in markets outside the UK. A licensing deal with the polo clothing brand La Martina allows it too to use the Guards brand, with a new collection due out next year. But none of these initiatives have been allowed to grow too large.
Similarly, Mr Stisted consistently resisted lucrative offers from sponsors and party organisers to gear up their activities off the pitch, insisting the club should avoid turning itself into an events company.
"I'm aware that this is a tricky balancing act," Mr Hobday says. "We do not want to dilute the Guards brand - ever."
'Glamorous sport'
Mr Hobday is eager to "continue to build the brand", however, through the offer of assistance to clubs outside the UK that want to expand and create new tournaments.
Besides, polo is increasingly televised, which means additional potential for revenue, he insists.
"Polo is a very glamorous sport to the outside world. The product is there, it just needs to be presented properly," he says.
Mr Hobday's background makes him well suited to expand Guards' commercial operations.
Like Mr Stisted, he is a former Scots Guards officer, though he has also clocked up considerable experience in sports management, having worked for International Management Group (IMG), run Loch Lomond Golf Club and founded the multi-sport marketing and management agency Carnegie Sports International.
"I think what we're going to see in the next 10 years is the growth of polo as a sport, both at the amateur and at the professional level," Mr Hobday says.
"My immediate priority is to be satisfied that the facilities and operations here are OK," he says.
"But as soon as the season is over, I'll be off to promote the sport and the club around the world."