Tax refunds: Why checking your cheque is vital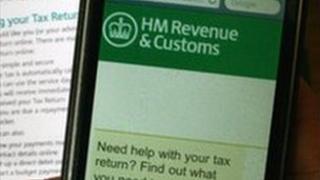 What would you do if you received a surprise tax refund?
Smile all the way to the bank? Not so fast.
You should always check your taxes.
Unfortunately, far too few people do and later they discover problems.
HM Revenue and Customs (HMRC) recently announced that between 1.7 and 3.5 million people will be receiving tax refunds in a few months time, while 1.2 million will told they owe money.
Why is that?
Unless you fill in self-assessment tax returns, the Revenue might not know everything it needs to in order to get your tax right.
Also, mistakes can happen and HMRC will usually expect you to have spotted them.
The Revenue probably has some information about wages or pensions on which you have paid tax under the Pay As You Earn (PAYE) system.
But, like a jumble sale jigsaw puzzle, when it puts it all together, there might well be one or more pieces missing.
2010-11 reconciliations
HMRC is now starting to review individuals' PAYE records for the tax year to 5 April 2011.
From the data on its computer, it will work out whether it thinks you have:
paid the right tax, in which case, you will not hear from it
paid too much, and are due a refund
or not paid enough and so, if you owe £50 or more, it will send you a bill.
The refunds will come first, with bills starting in September.
Why check?
If the Revenue thinks you are due a refund, it will send you a calculation in the form of a P800 letter, followed by the cheque.
The calculation is an estimate, based on HMRC's computer data.
So, before you bank the cheque, make sure you are happy with the calculation.
You could be losing out if the refund is not enough.
Or the Revenue could even charge a penalty if it refunds you too much and it thinks you were careless in not spotting that its calculation was wrong.
How to check the calculation
HMRC will send notes with the calculation to help you check it.
Ask yourself where the figures came from.
Compare them to your P60, P45s, P11D forms, and bank and building society statements, for example.
If several jobs or pensions have been added together, then more than one source could be lumped into a single amount of PAYE income.
What could be missing? Have you told the Revenue about pension contributions or gift aid donations, for example?
You may be able to claim some expenses against your wages.
Some common ones are mileage allowances for using your own vehicle for business travel (if they have not been fully reimbursed by your employer) and uniform or work clothes allowances for certain trades.
Have you got all your tax allowances?
Some allowances are commonly missed, such as blind person's allowance (which you do not have to be completely blind to claim) for yourself.
Higher personal allowances could also be due if you celebrated your 65th or 75th birthday in the tax year.
Check too that you are not getting something from the past to which you are no longer entitled.
Your refund could be too high if HMRC is still giving you an allowance or expense against your income which you cannot claim any more.
For example, if you have changed jobs or stopped work, and used to claim certain expenses which no longer apply.
Contacting HMRC
If you discovered a problem with the calculation or do not understand it, you can contact the Revenue's helpline on 0845 3000 627.
The textphone for those with hearing or speech impairment is 0845 302 1408.
If you do call, be ready with the calculation as HMRC will ask for your National Insurance Number (NINO) and will also ask security questions before discussing it with you.
Keep a note of the call, including the date and time, the name of the person that you spoke to, and what was said on both sides.
The Revenue might ask you to write in to claim reliefs and allowances.
Or you might prefer to write anyway with a query, particularly if the alternative is calling an expensive 0845 number from a mobile.
If you write, give your NINO, PAYE reference, full name and address, and explain your question or claim.
Sign and date the letter in ink, keep a copy of it and any enclosures and get proof of postage.
If in doubt, seek independent advice from a tax professional, for example a Chartered Tax Adviser.
HMRC will not issue tax refunds automatically which it works out to be less than £10.
Or the Revenue might not know you can claim extra allowances or reliefs.
In either case, you will probably need to write to them explaining your claim.
Earlier years' repayments
HMRC should by now have sent you a refund if it thought you were due one for any of the years 2007-08, 2008-09 and 2009-10.
But do check your records, especially if you have discovered a 2010-11 refund is due and the same circumstances applied to earlier years.
If you have not been filling in tax returns, the time limits for claiming repayments are:
Tax year ended 5 April 2006 - 31 January 2012
Tax year ended 5 April 2007 - 31 March 2012
Tax years ended 5 April 2008, 2009, 2010, 2011 - 5 April 2012, 2013, 2014, 2015 respectively.
But, before you claim, get your facts straight.
If it turns out that you have not paid enough tax in previous years, the Revenue might in fact send you a bill.
Under its Extra-statutory Concession B41, HMRC might refund tax from even earlier years if it, or another government department, made an error causing you to pay too much tax.
But the concession has not historically been a very powerful weapon.
Successful cases have been rare, as the facts must be extremely clear.
Further guidance, including example letters to help you write to the Revenue, can be found on the Low Incomes Tax Reform Group's website.
The opinions expressed are those of the author and are not held by the BBC unless specifically stated. The material is for general information only and does not constitute investment, tax, legal or other form of advice. You should not rely on this information to make (or refrain from making) any decisions. Links to external sites are for information only and do not constitute endorsement. Always obtain independent, professional advice for your own particular situation.