Land Securities reports a drop in vacancy rates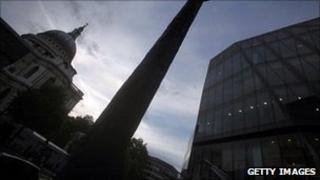 The amount of vacant properties owned by Land Securities dropped to 3.9% in June from 4.2% in March, the firm said.
The drop, excluding new developments, was in part due to retailers such as Superdry and the White Company taking up spaces in shopping centres.
The UK's biggest property company also said that higher rental income and sales had boosted its expansion plans.
It said it had identified new projects worth £275m to meet growing demand from food and fashion retailers for space.
"The outlook for development in London remains attractive and, despite the mixed messages in the retail sector, our leasing activity demonstrates that the stronger retailers are looking to take new space," said Land Securities chief executive Francis Salway.
The company's report comes at a time when the outlook for the commercial property market is uncertain.
The Royal Institution of Chartered Surveyors (Rics) recently reported that the improvement in the commercial property market has been limited to London.
The Rics survey found that new developments for retail and industrial space "continued to fall in the three months to June", despite demand for new office spaces.
Mr Salway added: "While the quarter has seen a period of uncertainty in the wider economy, our activities show that our plan continues to deliver opportunities for value creation."
In its statement, Land Securities announced that it would pay a quarterly dividend of 7.2 pence a share.
It also said it had reduced its debt to 37.5% of its assets, down from 39% at the end of March.
Land Securities' retail properties include Cabot Circus in Bristol and the St David's Shopping Centre in Cardiff.