Q&A: Contaminated beef in Japan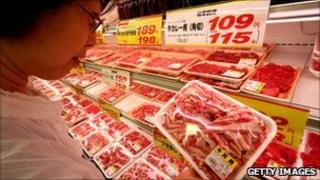 The Japanese government has banned all beef shipments from Fukushima after radioactive cesium was discovered in cows from the region. Some of Japan's largest supermarkets said they have already sold beef from Fukushima to consumers.
How many cows have been affected?
Official numbers on Monday said 554 cows were known to have been fed contaminated rice straw. However, that number looks set to rise as local media are reporting that more than 600 contaminated cattle were sent to meat processing centres between 28 March and 6 July.
The health scare began when radioactive cesium three to six times higher than safety standards was discovered in beef cattle that a farmer north of the Fukushima Daiichi plant had shipped to Tokyo.
The earthquake and tsunami damaged the nuclear power plant at Fukushima causing radioactive cesium to leak from the reactors. Rice straw tested in the region was found to have radioactive cesium up to 500 times higher than safety standards.
Are the contaminated cows only in Fukushima?
Officials say that besides Fukushima they have found contaminated straw in other prefectures including Miyagi, north of Fukushima and Niigata. The government has said it could widen inspections across the country.
Only about 3% of all cows in Japan are in Fukushima, so if the contamination was contained there it would not have as much of an impact on the livestock industry. However if it has spread beyond Fukushima it could cause much more damage.
How much of a scare has this caused?
Consumers are extremely concerned, despite the government saying that eating the contaminated beef a few times is not harmful to health at current levels. Experts say this scare could cause people to avoid eating beef completely and severely hurt the industry in the short term.
People were already wary after some vegetables, milk, seafood and tea had all been found to have higher radiation levels since the nuclear disaster. But again the government has said the radiation in these food products is not at levels harmful to human health.
Is it likely that chicken and pork have also been affected?
After the mad cow disease scare regulations were ramped up on beef cattle. From start to finish the process of where the meat comes from and where it goes is closely monitored. However, pigs, chicken and fish are much less regulated. That is causing worries that radiation could be detected in these food products in the months to come.
How important is beef in Japanese cuisine?
The Japanese take food very seriously, and they are concerned about what they eat. Beef is widely used in Japanese food, however, the mad cow disease scare caused Japan to temporarily ban all beef from the US.
Why wasn't this prevented?
Fukushima prefecture officials said they issued a guidance to farmers soon after the earthquake and tsunami instructing them not to feed cattle with grass and other feed kept outside. However, farmers have complained that they never received any such instructions.
Officials said it was difficult to make sure that the guidance was understood correctly after the earthquake because of disruptions to roads, electricity and gasoline supplies. They also indicated that some farmers didn't understand that rice straw fell under the category of grass and other feed.