Electrolux profits hit by weak demand and high costs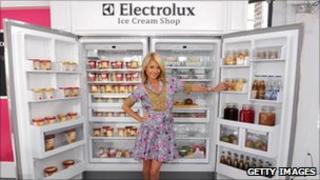 Electrolux, the world's second-biggest maker of home appliances, has reported a slump in profits due to weaker demand and high raw material costs.
Net income for the second quarter was 561m kroner ($86m; £53m), down 45% on the 1bn kroner the firm made a year ago. Sales fell 12% to 24.1bn kroner.
The company also warned that profits in the second half of the year would be lower than in the same period in 2010.
Last month, the firm said it would have to raise prices to offset rising costs.
Falling demand
"As expected, weak demand in key markets, lower prices and increases in raw material costs had a negative impact on second quarter results," said chief executive Keith McLoughlin.
The company said demand in North America had fallen by about 10%, after two quarters of growth, and had also dropped in "important markets" such as Italy, Spain and the UK.
These falls more than offset "strong sales growth" in Asia.
The firm also said it was implementing price increases in all regions.
Last month, the company said the average costs for some of its most important raw materials had increased by between 40% and 90% over the previous 18 months, while costs for transportation had also risen significantly.
Cost increases had stabilised, it said, but showed no sign of falling back.
Market leader Whirlpool has also put up prices.