Public sector pension plans 'may change'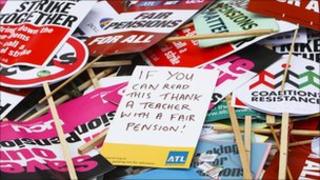 Some increases in public sector pension contributions may be avoided if staff agree to other cost savings in their schemes, the government has indicated.
The government is still planning to enforce the first rise in contributions for most schemes next year.
After talks with the TUC, and despite a recent one-day strike of civil servants and teachers, the first increase will take effect in April 2012.
However, the government has suggested subsequent increases may be avoided.
Under the new proposals, staff earning less than £15,000 a year will not pay any higher contributions at all.
Those earning between £15,000 and £21,000 (up from the previous suggested limit of £18,000) will pay 0.6 percentage points more from next April.
Those earning more than than £21,000 a year will pay up to 2.4 percentage points more.
The increases will apply to members of the Civil Service, NHS, Teachers, Firefighters, and Police pension schemes.
Equivalent savings
The government is trying to implement the recommendations of Lord John Hutton, the former Labour pensions minister.
His review of the public sector pension schemes, completed earlier this year, recommended higher contributions and the wholesale conversion of existing schemes from final-salary to career-average structures.
Another proposal to save money was later retirement ages, rising in line with any increases in the state pension age.
The increased contributions originally proposed by the government would have amounted, by 2014-15, to a total rise of as much as 1.5 percentage points for those earning between £15,000 and £21,000, and a total rise of up to 6 percentage points for those earning more than £21,000 a year.
However, the government has now opened up the possibility of avoiding any further contribution increases in the subsequent two years, if savings can be made in other ways.
"The government remains committed to securing the full Spending Review savings of £2.3bn in 2013-14 and £2.8bn in 2014-15, requiring each scheme to find savings equivalent to a 3.2 percentage point increase," said the Chief Secretary to the Treasury, Danny Alexander.
"Scheme specific discussions will make proposals on how these savings are achieved and will be required to make proposals by the end of October this year."
Consultations
In the case of the local government pension scheme, which is funded by an underlying investment fund, there will now be separate discussions.
This opens up the possibility of no contribution increases at all, if the government's required savings can be achieved by other methods, such as benefit cuts or later retirement dates.
"For local government, the government recognises that the funded nature of the scheme puts it in a different position and will discuss whether there are alternative ways to deliver some or all of the savings," Mr Alexander said.
Local authority trade unions had argued that any increase in their members' contributions would provoke tens of thousands of low paid staff to leave their pension scheme altogether.
This, they argued, would destabilise its finances - precisely the opposite effect to the one the government hopes to achieve.
As stated before, there will be no increase in contributions for members of the armed forces pension scheme, who do not make formal contribution payments in any case.
Scheme-by-scheme consultations will now start which the government hopes will be completed by October this year, with the aim of agreeing plans to meet the rest of the government's savings for the public sector schemes.
The TUC said: "Further talks will take place centrally, and individual unions will be actively considering also participating in scheme level talks in order to fully explore all the issues and to enable unions and their members to reach a judgment on whether agreement is possible or whether more unions will enter into dispute and plan industrial action."
The PCS civil service union said it was preparing for more strikes.
"PCS is now considering further industrial action in the autumn aimed at putting pressure on the government to agree to full and meaningful negotiations on all the main issues, and there are already indications there will be more unions on board," it warned.