IMF says eurozone must act firmly on crisis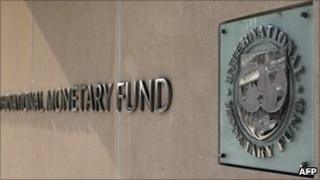 The eurozone must take decisive action to stop the debt crisis spreading outside Europe, the International Monetary Fund (IMF) has said.
The IMF said Greece, the Irish Republic and Portugal needed to stick to their austerity plans.
The Washington-based organisation also said the whole euro area should make a more consistent effort to restore confidence.
It recommended a "significant strengthening" of economic governance.
The IMF says most eurozone countries are enjoying a solid economic recovery - working through pre-crisis imbalances, such as high debt and financial market tensions - but it warns these are pulling away from the weak ones.
It says these tensions pose a key risk to the outlook "with possible large regional and global implications".
One area of concern it points to is the weaker countries' replacement of private investment with official financing - something that it says is unsustainable.
Greece, the Irish Republic and Portugal have all received needed bail-outs, part-funded by the IMF.
The IMF estimates that the 17 member eurozone will see economic growth of 2% this year - higher than a previous estimate in May - but that will fall to 1.7% in 2012, lower than the May forecast of 1.9%.
Luc Everaert, of the IMF's European Department, said: "The crisis in the periphery is not fully addressed yet... Directors think this should be done very urgently."
Expansion
The IMF urged Europe's leaders to expand the size and operational scope of the European Financial Stability Facility to intervene more effectively, suggesting this would go a long way to helping stabilise the region.
The BBC's world economics editor, Andrew Walker, says Europe has been wrangling inconclusively for weeks about whether banks should help with a second bailout of Greece.
The IMF also says countries should press ahead with reducing their borrowing needs, and that Europe should increase the size its rescue loan facility.
It also says that facility should be more flexible and be given authority to go into the financial markets to buy up the debts of struggling countries.
The IMF said the banks in the Euro area need to raise more capital to protect themselves against losses on problem loans.
The report comes as eurozone leaders prepare for emergency talks on Thursday on a second Greek bailout.
While investors are hoping for decisive and swift action, the German Chancellor Angela Merkel has played down the chances of the summit resolving Greece's debt crisis.
She told a news conference that there would not be anything as "spectacular" as a restructuring of Greek debt.