BHP Billiton coal output up but not at pre-flood levels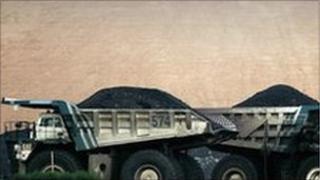 BHP Billiton, the world's biggest miner, has reported a rise in coal output but said that flooding continues to impact production.
Production of metallurgical coal rose 19% in the three months to 30 June compared to the previous quarter, the company said in a report.
However, coal output is still down 28% from the same period last year.
Northeastern parts of Australia, where most of BHP's coal is mined, saw record floods earlier this year.
"The remnant effects of the wet weather that persisted for much of 2011 financial year continued to restrict our Queensland Coal business, despite an unrelenting focus on recovery effort," the company said.
Recovery
The production report went down well with investors and analysts who said BHP's coal production seems to be recovering faster than expected.
BHP shares rose 1.6% in early trade.
"It seems to be the case that BHP is moving quicker than expected on the coal front," said Colin Whitehead, a mining analyst for Fat Prophets in Sydney.
In sharp contrast Australia's central bank said on Tuesday that a rebound in coal exports after flooding in Queensland state was taking "significantly longer than earlier expected."
It said the return to full output might not come until early 2012.
Iron ore
But BHP fared much better in iron ore output, its largest business.
Output was up 14% in the three months ending on 30 June as compared to the same period a year ago, the report said.
BHP mines its iron from the western part of Australia which was unaffected by the floods.
Production of aluminium and natural gas was also boosted this quarter compared to last year.
However crude oil output fell by 17% year on year because of lower production in the Gulf of Mexico among other problems.