Mortgage lending continues to be subdued, lenders says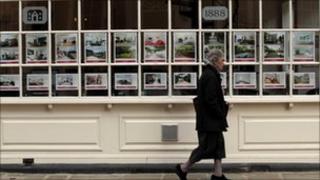 Mortgage lending picked up in June but was still lower than a year ago, the Council of Mortgage Lenders (CML) said.
Total lending to home owners was £12.9bn last month, up by 16% from May but 3% down on June last year.
For the first six months of the year, total mortgage lending was only slightly down on last year's figure, at £63.7bn.
The CML said the subdued state of lending reflected the poor state of the economy and household finances.
"The UK economy continues to experience disappointing economic growth, strong consumer price pressures, falling disposable incomes and an uncertain jobs market," said the CML's chief economist Bob Pannell.
"Recent emotive headlines on repossession prospects appear overplayed, given that the state of our economy does not warrant large interest rate rises for the foreseeable future.
"But we do expect to see moderately higher arrears and possessions through the second half and into 2012, as we have previously forecast," he added.