London 2012: Olympic sponsors up and running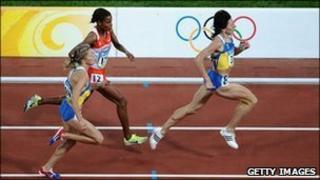 Athletes, organisers and ticket-holders are all keenly looking forward to the London Olympics now that there is just one year to go before the Games burst into action on 27 July, 2012.
And there is one other group of people with no less of an interest in the Games of the 30th Olympiad being a success.
Close watchers of newspapers and advertising hoardings may have noticed sponsors of the Games - such as Samsung, EDF, and Lloyds TSB among others - making their presence increasingly felt.
Their hope will be that money, time, and effort spent in preparation for the games will prove lucrative.
"Being a 2012 sponsor is a sort of life insurance - it keeps you in people's minds and contributes to your visibility," says Dr Dominique Turpin of IMD Business School, based in Lausanne, Switzerland, the city which is also home to the International Olympic Committee (IOC).
"It contributes to an association of being dynamic and young, and can help grow your base overseas - 2012 is not just big on a national level, but international level."
There are the IOC's global top Olympic partners - big names such as Coca-Cola and McDonald's - and then there are the dedicated London 2012 sponsors, firms who have been signed up by Games organising committee Locog.
'Sponsor suggestions'
Not surprisingly British firms want to be associated with their home event - and Locog's "official partners" list includes BT, BP, BA and Lloyds TSB.
"Our team have done a great job in raising $1bn from sponsorship," says Locog vice-chairman Sir Keith Mills.
He adds: "I'm sure they would be very happy if more sponsors wanted to come in, and we would be open to future sponsorship suggestions.
"But there are not very many categories that have not been filled."
Lloyds TSB signed up back in 2007 to be Locog's banking partner for the 2012 Games, the bank having also been involved the last time the Games were in London - in 1948 - when Lloyds was the official provider of banking services.
The Olympics is unique in that, even when a firm may spend millions on sponsoring the Games, there is no branding inside stadiums.
And that means companies have to be imaginative and use their sponsorship in a number of different ways, which is what Lloyds TSB is doing.
Back in 1948 it offered "the encashment of travellers cheques and letters of credit".
But backing a major sporting event has become a more subtle business since then.
Now it is using its sponsorship to engage staff, business customers, High Street customers, schools and the wider UK community - all under a legacy umbrella.
Olympic contract advice
"We signed up for a number of reasons," says Chris Daniels, head of London 2012 Activation at the bank.
"One is for brand advocacy - for both customers and employees to feel part of the brand at this time of the Games."
He adds: "We also want to inspire young people, businesses, and communities across the UK as we move towards the Games, and beyond."
For business customers, the bank offers advice, and regular updates, on how to win London 2012 supply contracts.
For young sports people, through its Local Heroes programme, it has so far supported 600 athletes aged 14 to 18 with things like grants, travel costs, and in introducing them to other potential sponsors.
For High Street customers it aims to provide tickets to the Games via prizes and promotions.
For communities it has just staged National School Sports Week - tied to the 2012 Games, and also offers, in partnership with another Olympic sponsor EDF, programmes to make schools more energy-efficient.
"The power of the Olympic Games is to link all of these initiatives of ours together - as a sort of social glue," says Mr Daniels.
Lloyds is one of the three sponsors of the torch relay - and the only UK-based one - and is undertaking a search now to find worthy candidates from local communities to take part.
'Something different'
Below the Locog "partners" tier there is another strata of firms backing the Games known as "official supporters", and below that another layer of "official suppliers and providers".
One of the supporter firms is consultancy Deloitte, which as part of its backing of the Games has 82 of its staff on secondment to Locog, helping in a number of departments such as procurement, new media and workforce planning.
"We are not just sponsoring the event, but supporting the delivery of the Games making this the ultimate 'super credential' for our firm," says Annabel Pritchard, Deloitte's London 2012 Sponsorship Director.
"This gives us something different and in highly-competitive and challenging markets, that is valuable to us."
She also says the sponsorship of London has given Deloitte the opportunity to demonstrate to clients its expertise through being involved with such a large-scale event.
"We have also seen a significant impact on recruitment and retention," she adds.
Competitor issues
According to Dr Turpin companies often use sponsorship of major events for this reason, what he calls "internal gain".
And he says there are two other reasons why firms look to back events such as the London 2012 Games - to launch new products and because if you do not become a sponsor, someone else will.
"You have to take into account your competitors' actions," he says.
"Companies know that if they do not take up the slots then their competitors will step in and do it."
He adds: "Sponsoring has to be part of a much bigger plan in a fragmented global marketplace.
"For example companies can take advantage of 2012 and use the Games as a stepping stone to launch new products."