Eurozone leaders set for crunch debt summit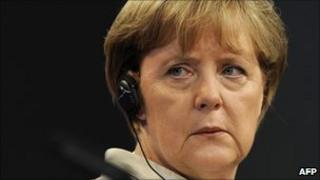 Eurozone leaders are set to meet for a crunch summit to try to resolve the Greek debt crisis and prevent any further contagion to other so-called peripheral economies.
Policymakers will discuss a range of measures, including a new loan package to Greece and the role of private investors in any debt restructuring.
Reports suggest a new tax on banks will also be debated.
But German Chancellor Angela Merkel has cautioned against over optimism.
'Very serious'
Greece received its first aid package in May last year, but the debt crisis continues to undermine confidence in global financial markets, with some commentators suggesting it threatens the future of the euro itself.
Politicians and investors are calling for decisive action to help bring the crisis to an end.
"Nobody should be under any illusion; the situation is very serious," European Commission President Jose Manuel Barroso said on Wednesday.
"It requires a response. Otherwise, the negative consequences will be felt in all corners of Europe and beyond."
The Governor of the Bank of England, Sir Mervyn King, has said that the crisis in the eurozone posed the most serious and immediate risk to the UK's financial system.
President Barack Obama has also weighed in, calling Mrs Merkel on Tuesday night to stress the importance of tackling the debt crisis in sustaining the global economic recovery.
The International Monetary Fund has also called on European leaders to take swift and decisive action.
Delaying such action further would be "very costly" for the world economy, it said.
Spending cuts
However, there are divisions among policymakers about the best way to resolve the crisis.
There appears to be consensus on the need for a new loan agreement, analysts say, thought to be similar in size to the 110bn euro ($156bn; £97bn) package agreed last year.
However, there is also a growing consensus that this will merely act a sticking plaster, and that the fundamental problem of Greece's indebtedness needs to be addressed.
Athens has already implemented a raft of wide ranging austerity measures, including spending cuts and tax rises, and earlier this month agreed to further drastic action to cut its debt.
Bank tax
But there is a growing sense that these will not be enough. The only way to resolve the problem is to restructure Greece's debts, many observers argue.
Germany has proposed allowing Athens more time to repay, effectively rolling over existing debts into new bonds.
It wants private investors, largely banks, to participate in this restructuring.
But the European Central Bank has strongly opposed this plan, arguing that such a rollover would constitute a default in the eyes of the international credit ratings agencies and, as such, would undermine investor confidence and the euro itself.
An alternative way get private investors to contribute to any aid package would be to introduce a new bank tax.
Reports suggest leaders will discuss precisely such a tax, even though this would prove hugely unpopular with the banks.
It is these divisions that explain Mrs Merkel's attempts to dampen expectations ahead of the summit.
The summit will take place in Brussels at 1300 local time (1100 GMT).