Ecolab buys water management firm Nalco for $5.4bn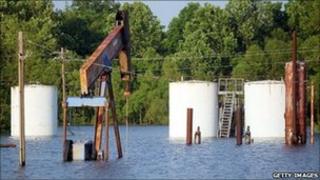 US disinfectant manufacturer Ecolab has agreed to buy water management firm Nalco for $5.4bn (£3.4bn).
It represents a bet that the US water management business will grow strongly due to global pressures on fresh water supplies and new environmental rules.
The offer values Nalco at 34% more than its closing stock price of $28.87 on Tuesday.
In addition to the purchase Ecolab will also assume $2.7bn of Nalco debt valuing the deal at around $8.1bn.
Demand for clean water
Nalco is involved in treating water from unconventional oil and gas extraction.
Removing gas from rocks, or oil from sands often involves using significant amounts of water which regulators then want cleaned by energy companies.
"We really like the customer base that Nalco serves. Oil and gas extraction process increasingly are going to be very water dependent, as you've got to go deeper to find it," says Ecolab's chief executive Douglas Baker.
Disasters such as the Gulf of Mexico oil spill and flooding in Mississippi have also increased demand for water treatment, whilst water resources around the world have become increasingly scarce.
Nalco had sales of about $4.25bn in 2010 and operates in more than 150 countries.
Ecolab expects the combined company will have around $11bn in sales.