American Airlines orders 460 Boeing and Airbus aircraft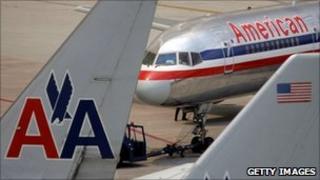 American Airlines has announced multi-billion dollar orders for 460 new Boeing and Airbus planes.
The world's fourth-largest airline by number of passengers, American is buying 200 Boeing 737s and 260 Airbus A320 aircraft.
American described the twin deals as "the largest aircraft order in history".
Its parent company AMR Corporation added that the new single-aisle planes would "transform" American's fleet.
The new aircraft will be delivered between 2013 and 2022.
'Strong endorsement'
AMR chairman Gerard Arpey said American would have "the youngest and most fuel-efficient fleet among our peers in the US industry within five years".
He added: "This new fleet will dramatically improve our fuel and operating costs, while enhancing our financial flexibility."
The exact financial details of both deals have not been revealed.
Europe's Airbus said the American order was a "strong endorsement".
Tom Enders, Airbus president and chief executive, said: "We are extremely proud and gratified once again to count American Airlines among Airbus' global customers."
Airbus said that the order for 260 planes from its A320 "family" of aircraft would include its A319, A320 and A321 models.
Chicago-based Boeing said that American also had an option to buy a further 100 planes.
Both Airbus' A320 planes and Boeing's 737s are short to medium-range aircraft. Both hold approximately 200 passengers.