Firms struggle as tablets surge, says Aruba Networks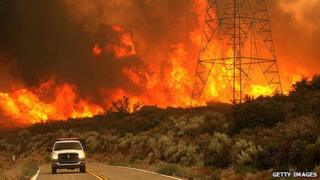 Each week we ask high-profile technology decision-makers three questions.
This week it is Keerti Melkote, founder and chief technology officer (CTO) of Aruba Networks.
Aruba Networks is a provider of network access technologies, including wireless LAN (local area network) and edge access networking equipment, as well as virtual networking technology.
The company is based in Sunnyvale, California, and has more than 500 employees. Aruba Networks had revenues of $267m (£165m) in 2010.
What's your biggest technology problem right now?
We're a technology company so the problems our customers face are our problems.
For our customers it's directly tied to the influx of mobile devices into the enterprise, especially since Apple introduced the iPad.
Most corporations are having a very tough time trying to figure out how to deal with this. They're struggling with the security considerations of these devices - how do they retain control of confidential corporate data?
I have a firewall on the internet that protects my corporation from hackers, everything that is inside the firewall is protected.
But this personal device comes along and blurs the line, and says the firewall is irrelevant. I am bringing in my personal device and making it part of the corporate network, it becomes a pretty difficult problem to control the security of the corporate information.
I would say that is the number one challenge that most corporations are facing today.
What's the next big tech thing in your industry?
It's directly related to the introduction of the iPad.
What we've seen is a complete shift in how corporations are going to eventually think about employee computing and communications.
Today this essentially translates to providing a PC at somebody's desk and a phone. And maybe a mobile and maybe a laptop.
When you think about these new devices, it's not just the iPad, it's the iPhones, and Android phones, and all the other smartphones that are coming into the market.
So you extend this model and say, why don't we enable the 'bring your own device' model to include them.
Your own personal computer, personal tablet PC or iPad and smartphone can be used for corporate computing and communications.
At the same time the next generation office environment is going to change dramatically. Instead of cubical farms, you'll be sitting at this desk with this mobile experience, so you can basically take your work with you wherever you go.
The way that offices are going to be built is going to be more collaborative and open, rather than the traditional desk-bound workplaces that we are used to seeing.
What's the biggest technology mistake you've ever made - either at work or in your own life?
When we moved our corporate headquarters from the previous location to the current location, because we're a fundamentally wireless company we believed from a technology perspective that we didn't need to wire the building, for telephone and internet etc.
This was about three or four years ago. Our internal IT department said it was too risky, and they still wanted to spend the money on cabling the building which we did.
A few years later we find ourselves essentially not using any of that investment, or very little of it.
I think that was a very significant mistake as far as corporate IT decisions go.
The second one is more to do with personal networking use.
Like most of us I have a TV, both cable and internet TV, I have three types of phone, I have a landline at home, a mobile phone for my family, and I have Voip (voice over internet protocol - internet telephone) from Vonage. Of course I use the internet not only for personal entertaining but for work as well.
I was going through the bills I was paying to maintain this totally connected lifestyle I think most of us have today. I was pretty staggered at the amount of money I was spending.
I decided to simplify my life. What I found was that the most important things for me were my internet connection and my mobile connection.
I decided to go with a bundled plan to save money with one provider, only to find that these guys were not net neutral, and were monitoring content. That's something I absolutely despise.
So I'm back on the market shopping for a provider for my internet and mobile. I want to buy an internet connection from someone who can at least give me the semblance of net neutrality.
Bundled plans - they're not all that they're cracked up to be.